Archive for June, 2009
June 26, 2009
June 13, 2009
Let's take a tour of what it might look like to peer through some of the world's most powerful and expensive camera lenses, shall we?
To set a baseline, here's a photo of Long Island City's Citibank building taken with a regular 'ol Canon 17-40mm zoom lens at 22mm. You can see the full photo on the top left, and a 100%, 1:1 zoom in the center of the screen. Click it to view it at actual size. Go on, click it.
22mm lens: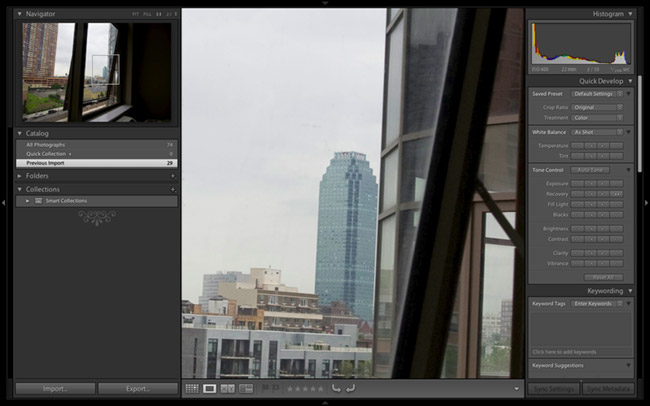 And here's a shot with my most powerful zoom lens – a Canon 70-200mm 2.8L.
200mm lens: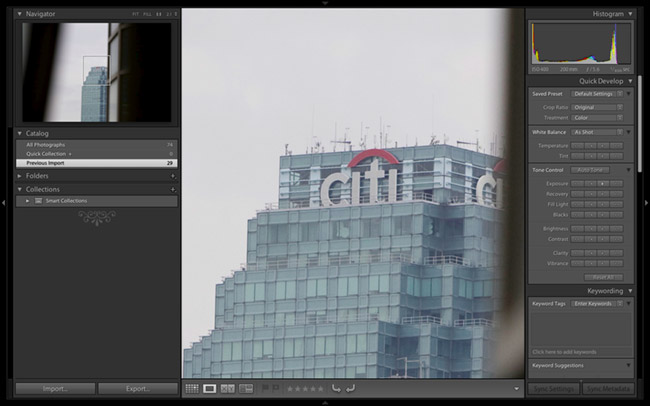 Now the fun begins. Let's see how much closer we can get by shooting through a 20-60x Nikon spotting scope.
40mm lens + spotting scope @ 20x (~800mm lens):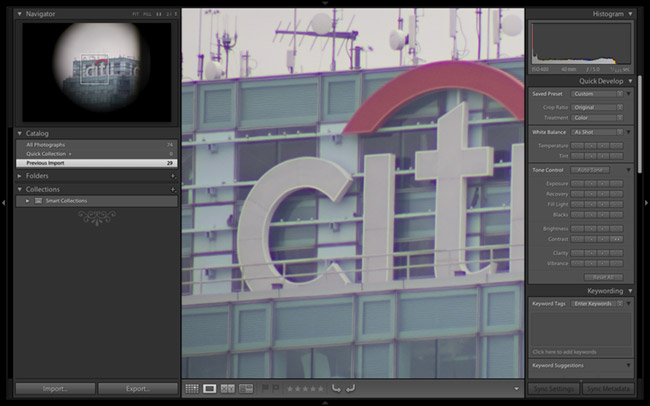 The photo above is pretty much as close as you'd get with an 800mm lens (although, obviously, the 800mm lens would have better image quality and the edges wouldn't be completely darkened). Canon makes an 800mm lens and you can pick one up for a cool $11,000 at Adorama.
So let's move on to 1200mm territory.
40mm lens + spotting scope @ 30x (~1200mm lens):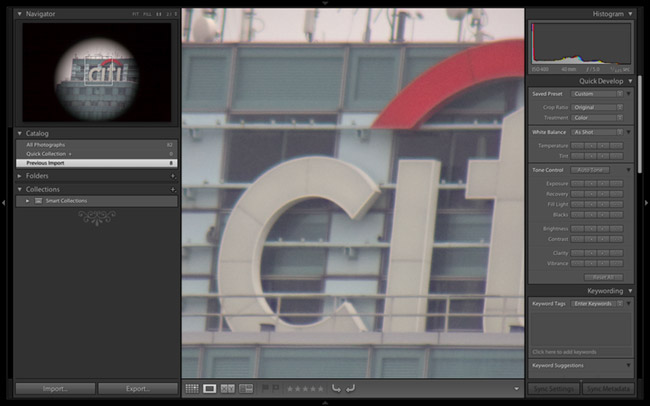 If you wanted to take the above photo without the black edges and degraded image quality, you could pick up Canon's 1200mm, $120,000 lens from B&H. It's the largest lens Canon makes and you can read more about it here.
Let's get closer…
40mm lens + spotting scope @ 42.5x (~1700mm lens):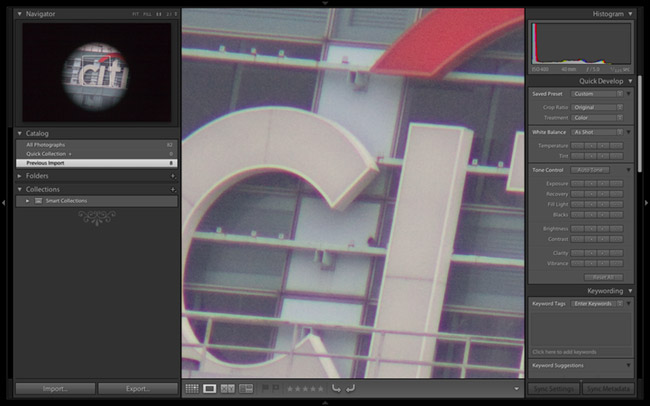 The photo above approximates the focal length of the world's largest telephoto lens, made by Carl Zeiss. Badass.
100mm lens + spotting scope @ 20x (~2000mm lens):
Now we're at 2000mm. Nikon made a 2000mm lens using mirrors a while back.
200mm lens + spotting scope @ 20x (~4000mm lens):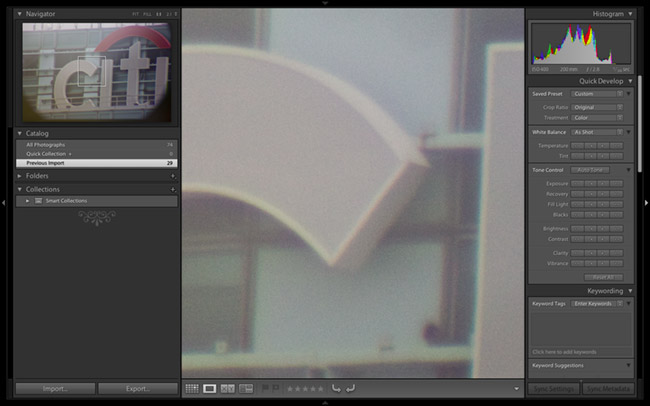 Somewhere between these two focal lengths is Canon's insane 5200mm lens. You can read more about it here, here, and here.
100mm lens + spotting scope @ 60x (~6000mm lens):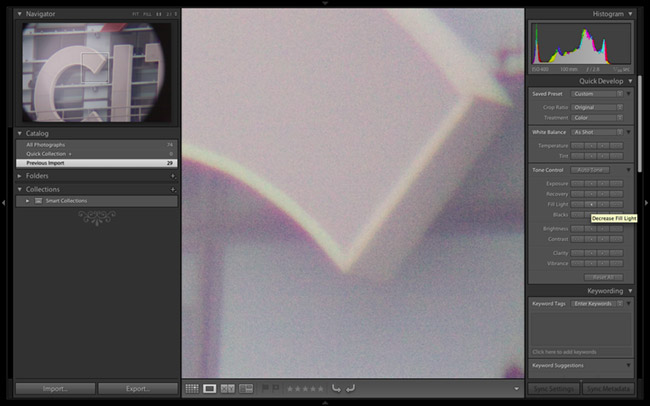 To get any closer, someone once took Canon's 1200mm lens and paired it with a 7.2x crop factor video camera to create a 8640mm focal length.
200mm lens + spotting scope @ 60x (~12000mm lens):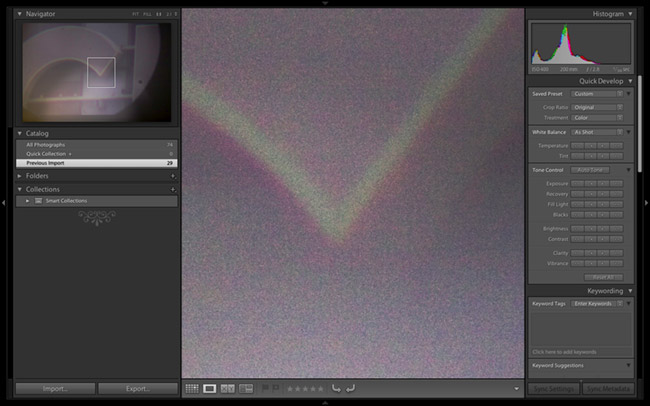 And there you have it – an example of how close you'd get with a 12000mm lens. Judging from the focal-length-to-price ratio of Canon's 1200mm lens, getting a crystal clear full-frame shot of the Citibank building this close would run you $1,200,000. And that's all I have to say about that.
June 5, 2009
I snapped this out of the back window of Snooth's new offices in midtown. I highly recommend checking out the full resolution version.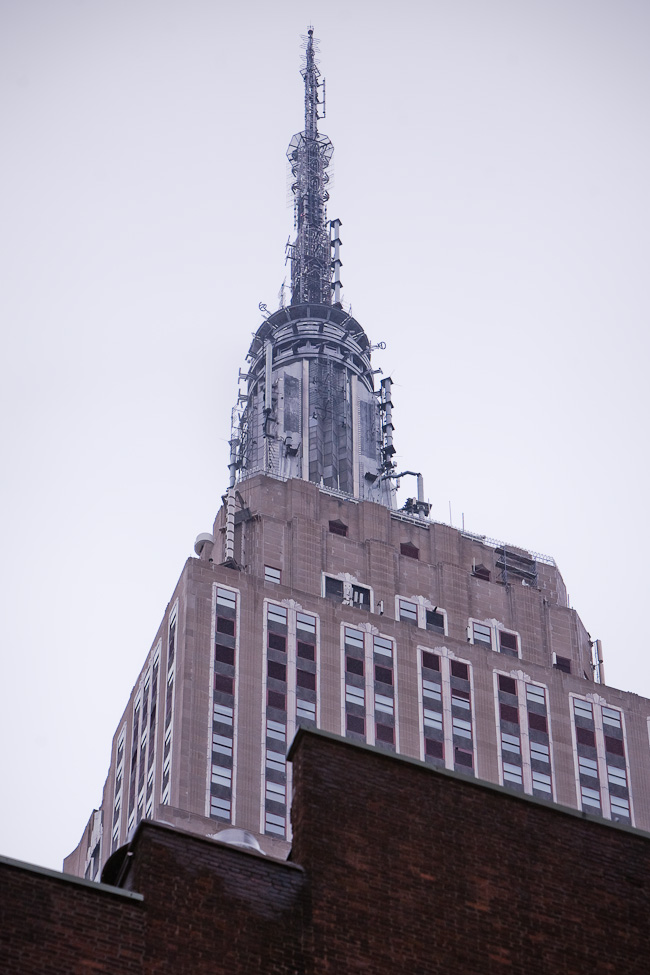 In related news, our proximity to the Empire State Building is what made our (former) insurance company refuse to insure us. If you ask me, it sounds like the terrorists won.